The Benefits of Nurse Mentoring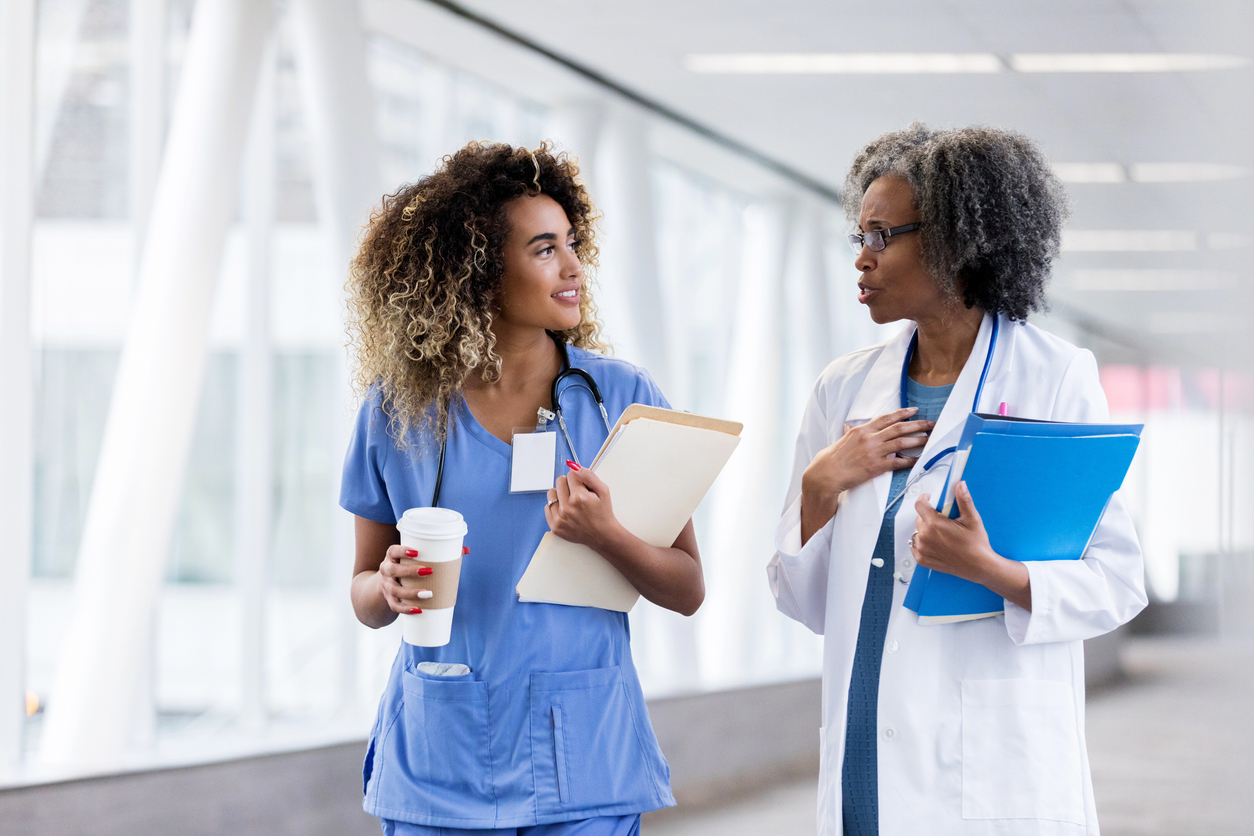 The Benefits of Nurse Mentoring ¶
As frontline medical workers, nurses have one of the most physically and mentally demanding jobs in health care. For new nurses, the long shifts, breakneck pace, and intensity of the work can sometimes feel overwhelming. Further, new nurses are still learning and may feel underprepared or lack confidence in their abilities.
Nurses who are still growing into their roles can benefit from nurse mentoring. Experienced nurses in a mentorship role can serve as both guides and support systems for nurses who need help learning the ropes and navigating their careers.
The one-on-one individualized attention that nurse mentors provide is highly beneficial for less experienced nurses who may need help acclimating to a fast-paced, dynamic health care environment. Those who aspire to nurse mentorship can benefit from developing the appropriate skill set, which they can hone through a nursing education.
What Is a Nurse Mentor? ¶
A nurse mentor is a leadership position in health care that doesn't require a specialized degree or credential. Experience and an advanced education in nursing are the two main eligibility requirements. Further, nurse mentors should demonstrate that they are:
Ethical and trustworthy
A source of encouragement
Reliable and available
Active listeners
Invested in helping nurses achieve their career goals
The relationship between mentor and mentee can either be formal or informal. Formal nurse mentoring can be arranged through an organization, such as the American Nurses Association (ANA). This ensures that the mentor has been vetted and approved to act as a mentor. The ANA currently offers two types of mentorship programs: career mentoring and flash mentoring. Career mentoring lasts for eight months and is a comprehensive version of mentorship; flash mentoring is much shorter and focuses on specific skill development.
On the other hand, informal nurse mentoring does not go through an organization and is more flexible in structure. Informal nurse mentoring relationships typically occur when a new nurse builds a rapport with an experienced nurse. Rather than following a pre-established timeline, informal nurse mentors make themselves available as needed. Mentees can ask clinical questions, seek assistance with a particular problem, or use their mentor as a sounding board.
Whether the relationship is formal or informal, nurse mentorships can be mutually beneficial. Young or inexperienced nurses get the guidance they need, while mentors benefit by elevating the talent around them.
What Are the Main Benefits of Nurse Mentoring? ¶
Nurses who are taken on as mentees receive guidance, assistance with clinical skills development, and career advice. Further, they have someone to turn to who has faced the emotional challenges of the job, creating a supportive learning environment.
Some other benefits of nurse mentoring include:
Nurse mentors can help their mentees identify the shortest avenue to reaching their career goals, saving valuable time.
Nurse mentors can help minimize turnover, saving health care facilities thousands of dollars per year. A recent report from NSI Nursing Solutions Inc. noted that the average cost of turnover for a registered nurse at a hospital was $52,350. A 2020 study published in Nurse Leader revealed that nurse mentors had a positive impact on their mentees' decision to stay in the nursing profession.
Nurse mentoring can be invaluable in conflict situations that new nurses may be unsure how to handle.
Through leading by example, nurse mentors serve as effective role models who demonstrate how to deliver patient care at the highest standards. New nurses who are properly mentored may be able to deliver improved quality of care, which can lead to positive patient outcomes.
Nurse mentors are motivators who can help young nurses push through mental, physical, and emotional barriers.
How to Become a Nurse Mentor ¶
The process of becoming a nurse mentor is firmly rooted in education and typically requires several years of on-the-job experience. Generally, nurse mentors should have at least a Master of Science in Nursing (MSN) degree; however, those who are truly committed to nurse mentoring can benefit greatly from a Doctor of Nursing Practice (DNP), the highest level of nursing education.
Extensive work experience is also generally a prerequisite for nurse mentorship. Mentors need to be able to answer any questions and problem-solve any scenarios that may arise with their mentees. A lack of experience can hurt the relationship and shake a mentee's confidence and trust in their mentor.
It should also be noted that nurse mentors don't necessarily have to pair up with nurses who are completely new to the field. Many experienced advanced practice registered nurses (APRNs) help newly credentialed APRNs navigate their new roles.
Nurses who are ready to become mentors should consider the following options:
Apply to become a mentor through the ANA Mentoring Program
Speak with their chief nursing officer (CNO) or hospital administrator about mentorship programs
Reach out to nursing schools that may need nurse mentors
Ask those in their professional network about mentoring opportunities
Search online for reputable organizations that specialize in nurse mentorship
Help Prepare the Next Generation of Nurses ¶
New nurses and nursing students benefit greatly from the individualized attention and coaching nurse mentoring provides. In addition to developing more competent nurses, mentorship programs can contribute to greater job satisfaction and workplace confidence, and even ultimately help mitigate turnover.
The University of Tulsa firmly believes in the mentor/mentee relationship and the benefits it provides. Every student at TU has an advisor, student success coach, and faculty mentor to guide them throughout the online RN to Bachelor of Science in Nursing (RN-BSN) program. Learn more about the program to find out how TU can support your educational growth and professional development.
Recommended Readings
How the Theory of Human Caring Applies to Nursing
What Is Roy's Adaptation Model of Nursing?
Sources
American Nurses Association, Welcome to ANA's Mentoring Program
Experience Care, "6 Key Benefits of Mentorship in Nursing"
Johnson & Johnson Nursing, Mentorship
NSI Nursing Solutions, Inc., 2023 NSI National Health Care Retention & RN Staffing Report
Nursa, "Become an Influential Nurse Leader and/or Mentor for New Nurses"
Nursing World, ANA Mentoring Programs
Nurse Leader, "Mentorship ReSPeCT Study: A Nurse Mentorship Program's Impact on Transition to Practice and Decision to Remain in Nursing for Newly Graduated Nurses"
The Nerdy Nurse, "7 Benefits of Mentorship in Nursing" Wolters Kluwer, "Consider Becoming a Nursing Student Mentor"
Wolters Kluwer, "Mentoring Across the Nursing Profession: Lessons from the ANA"