THE UNIVERSITY
OF TULSA
WHERE NURSING LEADERS COME TO LEARN ONLINE
Nursing Never Stops Evolving. Neither Should You. ¶
Are you ready to lead meaningful transformation in nursing? The University of Tulsa is here to advance your path to positive impact. We're preparing nurses who are competent and confident, who are ready to meet the needs of the moment and excel through the ranks of leadership.
As a student in TU's online programs, you'll develop a comprehensive skill set to shape the future of nursing. We teach the clinical knowledge necessary to deliver effective care as well as soft skills that make for well-rounded nurses. Our programs emphasize the fundamentals of evidence-based practice and the core tenets of ethical service, preparing you to lead groundbreaking research and influence health policies with purpose.
Building a brighter future in health care depends on nurses who are ready to stand out and stand up for transformation in their field. If you're up to the challenge, The University of Tulsa offers the unmatched support you need to exceed expectations.
Learn from our accomplished faculty of certified nurse educators and advanced practice nurses.
Experience growth-minded education to reach the next milestone on your academic and professional path.
Receive individualized guidance and one-on-one support from top-notch nursing educators who can help you reach your goals.
Undergraduate Programs
Whether you're planning to enter the field of nursing or build on your existing nursing experience, our online bachelor's degrees will prepare you to make meaningful strides in your career.
Learn More →

About Your Degree Options
Graduate Programs
If you're an experienced nurse looking to expand your scope of practice, become more specialized, or transition to an administrative role, our online graduate programs will prepare you to lead with confidence.
Learn More →

About Your Degree Options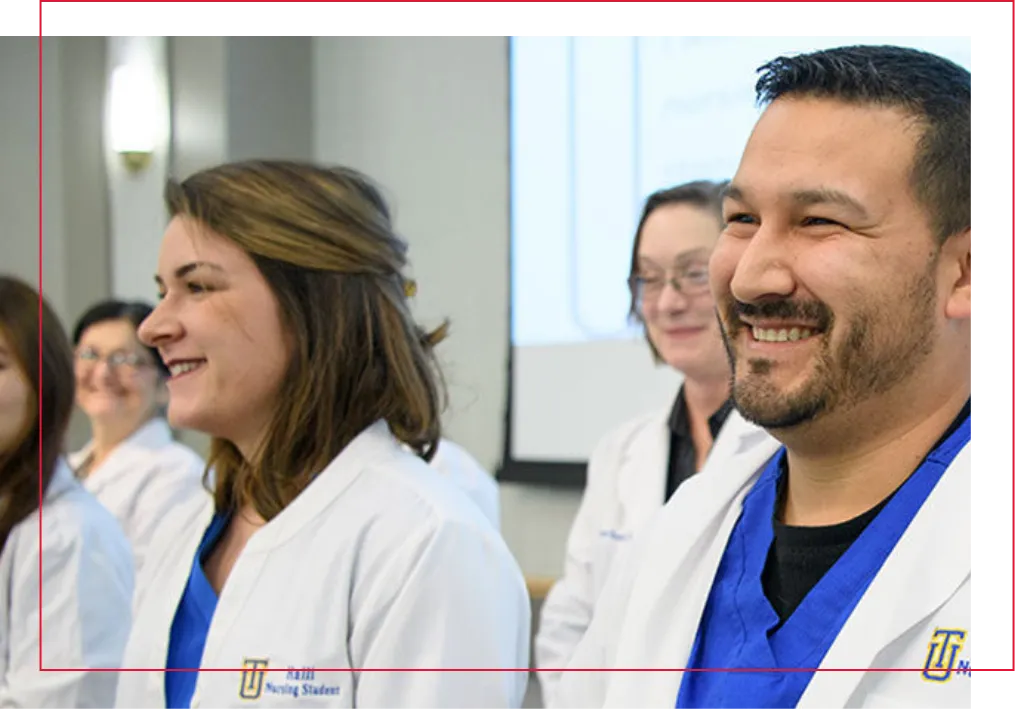 Focus on Leadership
The University of Tulsa's online curriculum emphasizes the hard sciences and soft skills in equal measure, preparing you to take charge of your academic journey and take the lead in your career. As caregivers, TU graduates exhibit a balance of clinical knowledge and human connection that enables them to see the patient and family as whole — a skill employers value.
Experience the TU Difference
The School of Nursing features a 10:1 student-to-faculty ratio.
60% of TU nursing instructors hold doctorates.
TU has trained high-quality nurses since 1973.
Want to hear more about online programs at The University of Tulsa?
Fill out the form below, and an admission counselor will reach out to you via email or phone with more information. After you've completed the form, you'll be automatically redirected to learn more about TU and your chosen program.
or call +1 (918) 612-5036
By submitting this form, I am providing my digital signature that The University of Tulsa may email me or contact me regarding educational services by telephone and/or text message utilizing automated technology at the telephone number provided above. I understand this consent is not a condition to attend The University of Tulsa or to purchase any other goods or services.
Thank you for your interest!
Redirecting you now...