MSN PROGRAM
ELEVATE YOUR EDUCATION. INCREASE YOUR IMPACT.
Keep Advancing as a Nurse — No Clinical Hours Required ¶
The call to serve your patient community is what first led you to nursing, and that same dedication to patient care is what drives you to continue advancing your career. If you're motivated to make meaningful contributions as a nurse leader, The University of Tulsa's online Master of Science in Nursing (MSN) program prepares you with practical knowledge to help you make a real difference.
At TU, you'll receive one-on-one support from our accomplished faculty, who take the time to understand your goals and set you on the right course to achieve them. You'll gain the clinical knowledge necessary to deliver effective care as well as soft skills — such as communication, critical thinking, and self-care — that make for well-rounded nurse leaders.
If you're a graduate of TU's RN to BSN program — or a TU Accelerated BSN graduate who has passed the NCLEX-RN® — you're automatically accepted into the online MSN. Continuing your nursing education at TU allows you to take the next step toward leadership with just 30 additional credit hours.
TU nurses rise to meet the health care needs of the moment. Bring your motivation to improve patient well-being, and we'll provide the tools you need to increase your impact.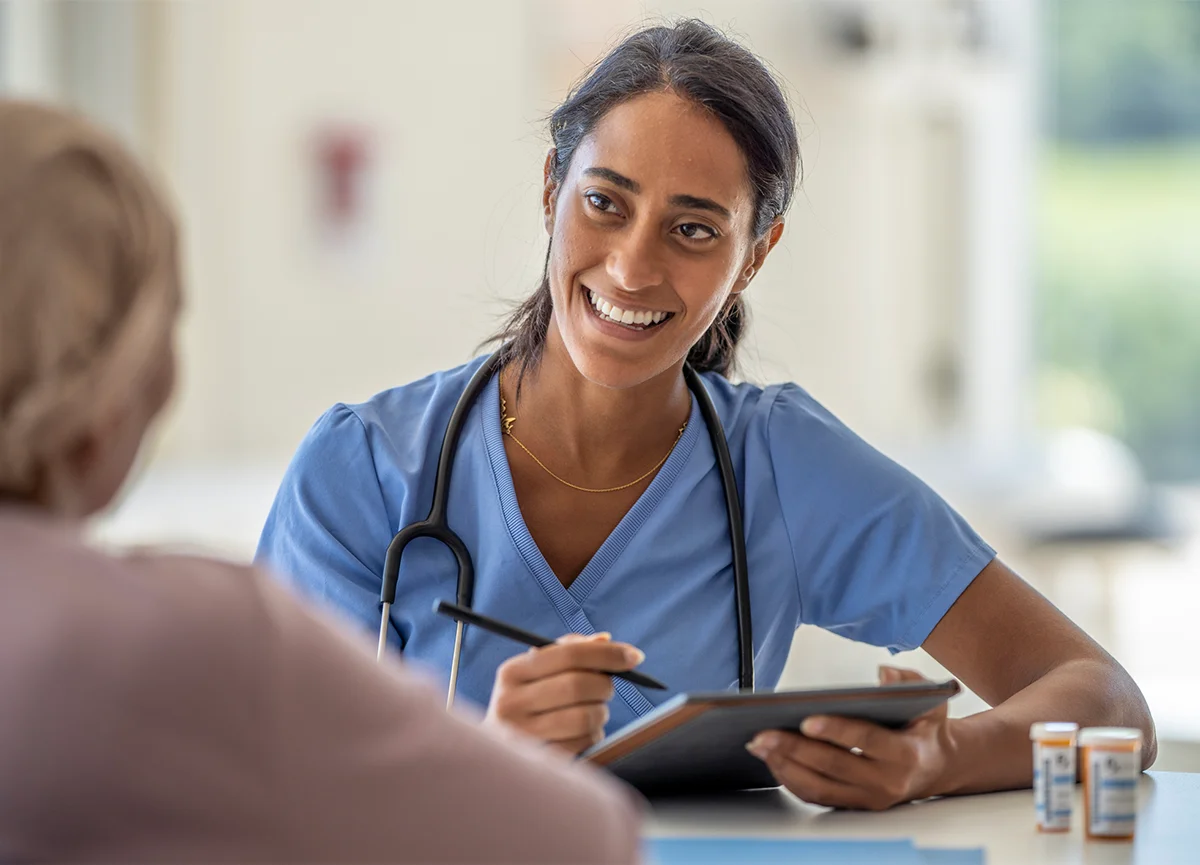 Earn Your MSN Online at TU
Accredited by the Accreditation Commission for Education in Nursing (ACEN), our online MSN serves active, BSN-educated nurses who want to continue advancing their professional skill set.
The core curriculum emphasizes the 3 Ps — pathophysiology, health promotion, and pharmacology — to prepare strong, clinically competent nurses without a clinical hour requirement. Each student will complete a final capstone project with other students from across MSN disciplines.
The online MSN offers four specialty tracks so you can develop skills in your preferred area of focus:
Leadership and Innovation. Emphasizes key leadership skills such as cross-discipline communication, budgeting, staffing, and performance measurement
Education and Elevation. Prepares nurse educators with pedagogical theories and strategies, assessment and evaluation tools, and curriculum development tools
Public Health Global Vision. Develops skills related to population health and wellness, public health promotion, and disease prevention — both locally and globally
Informatics and Analytics. Guides nurses in the practice of informatics, the management of data and information, health care information workflow, and project management
Explore Your Career Potential With an MSN
Whether you're planning to lead in bedside nursing, take on an administrative role in your health care system, or educate the next generation of nurses, the online MSN program prepares you to take the next step in your professional development. Take a look at some potential careers you can reach with this degree*:
Median Annual Salary: $140,246
Median Annual Salary: $96,964
Median Annual Salary: $80,161
Median Annual Salary: $212,589
Median Annual Salary: $85,591
Median Annual Salary: $82,620
Median Annual Salary: $78,400
Median Annual Salary: $85,000
Median Annual Salary: $83,363
Median Annual Salary: $81,974
Median Annual Salary: $135,931
Median Annual Salary: $90,591
Median Annual Salary: $87,518
Median Annual Salary: $85,427
*Salary data from Payscale
Curriculum & Courses
Designed for active registered nurses with a bachelor's degree in nursing, the online MSN program is built on 30 credit hours, which includes 18 credit hours of foundational nursing courses, 9 credit hours of specialty track courses, and 3 credit hours for a final capstone project.
The MSN is offered in an eight-week format with multiple starts each year, which provides the flexibility for busy, working nurses to enroll in just a single course per term if needed. No clinicals are required for degree completion.
Core Nursing Curriculum
View full course details in the The University of Tulsa course catalog.
Online MSN Core Nursing Courses
| Term I Courses | Credits |
| --- | --- |
| NSG 5003 Advanced Theoretical Frameworks of Nursing | 3 |
| NSG 5013 Research and Evidence-Based Practice | 3 |
| Term II Courses | |
| NSG 5033 Health Care Policy | 3 |
| NSG 5043 Health Promotion | 3 |
| Term III Courses | |
| NSG 5053 Pathophysiology Over the Lifespan | 3 |
| NSG 5063 Pharmacology and Societal Trends | 3 |
| Term IV Courses | Credits |
| --- | --- |
| NSG 6103 Leadership and Management | 3 |
| NSG 6113 Innovation in Nursing | 3 |
| Term V Courses | |
| NSG 6123 Budget and Finance | 3 |
| NSG 5503 Capstone | 3 |
| Term IV Courses | Credits |
| --- | --- |
| NSG 6203 Curriculum Development | 3 |
| NSG 6213 Assessment and Evaluation | 3 |
| Term V Courses | |
| NSG 6223 Teaching Strategies and Engagement Methodologies | 3 |
| NSG 5503 Capstone | 3 |
| Term IV Courses | Credits |
| --- | --- |
| NSG 6303 In Sickness and In Health: Applied Dynamics | 3 |
| NSG 6313 Population Health | 3 |
| Term V Courses | |
| NSG 6323 Epidemiology | 3 |
| NSG 5503 Capstone | 3 |
| Term IV Courses | Credits |
| --- | --- |
| NSG 6403 Fundamentals of Healthcare Informatics | 3 |
| NSG 6413 Data Analytics in Healthcare | 3 |
| Term V Courses | |
| NSG 6423 Project Management for Healthcare Technology | 3 |
| NSG 5503 Capstone | 3 |
Tuition and Financial Aid
Are you ready to invest in your future with an online MSN at The University of Tulsa? TU brings you an elite private nursing education at a competitive price and offers pre-semester monthly payment plans for your convenience. Our program equips you with clinical knowledge and leadership skills to achieve your career goals and realize your full earning potential.
LEARN MORE
We teach the hard sciences alongside valuable soft skills, preparing you to take the lead in your career.
We prepare you for continued career growth as a nurse leader to increase your impact in health care.
Our faculty includes certified nurse educators and advanced practitioners, with 60% holding a doctorate.
Our educators take the time to provide one-on-one academic support and career guidance.
We shape our programs around current industry needs, preparing you to face them with confidence.
TU grads are consistently recognized as capable leaders by partner hospitals and patients.
THE NEXT CLASS START DATE IS JANUARY 15, 2024. DON'T WAIT TO APPLY!
A Flexible MSN Program at an Unbeatable Value
The MSN learning experience is geared toward working nurses through fully online coursework with no clinical hour requirements. We're dedicated to reducing financial barriers to quality education, so our online MSN program is competitively priced at just $585 per credit hour.
What You Need for Admission
The University of Tulsa is home to ambitious learners with diverse backgrounds and experiences who seek impactful roles in nursing. Please review the following requirements for admission to the online MSN program at TU.
Completed application for admission ($60 application fee)
Documentation of an active, unencumbered registered nurse license
A Bachelor of Science in Nursing (BSN) from a regionally accredited nursing program
Professional resume or CV outlining academic and professional experience
Two letters of recommendation
Statement of purpose (two paragraphs in length)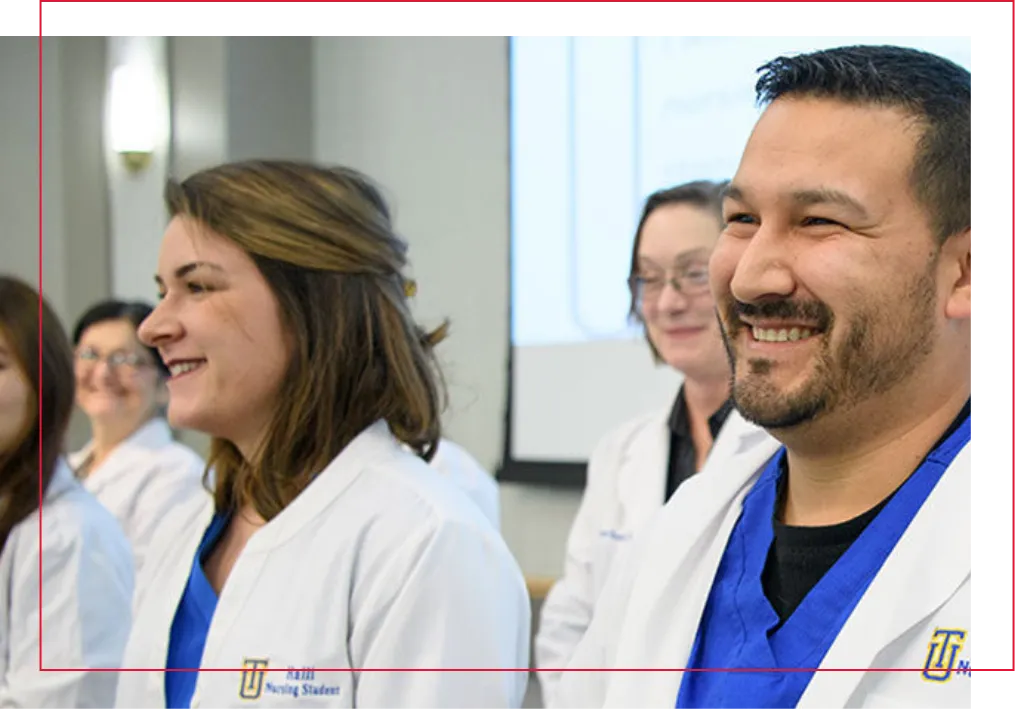 About The University of Tulsa
The University of Tulsa is known for its long-standing legacy of producing skilled and hard-working nurses, dating back to its first graduating class from the School of Nursing in 1973. TU's online programs are sharing this reputation of academic excellence with a cohort of learners across the United States, preparing a new generation of future-ready nurses, compassionate caregivers, and nursing leaders to thrive in their field.
Want to hear more about online programs at The University of Tulsa?
Fill out the form below, and an admission counselor will reach out to you via email or phone with more information. After you've completed the form, you'll be automatically redirected to learn more about TU and your chosen program.
or call +1 (918) 612-5036
By submitting this form, I am providing my digital signature that The University of Tulsa may email me or contact me regarding educational services by telephone and/or text message utilizing automated technology at the telephone number provided above. I understand this consent is not a condition to attend The University of Tulsa or to purchase any other goods or services.
Thank you for your interest!
Redirecting you now...