How to Become an APRN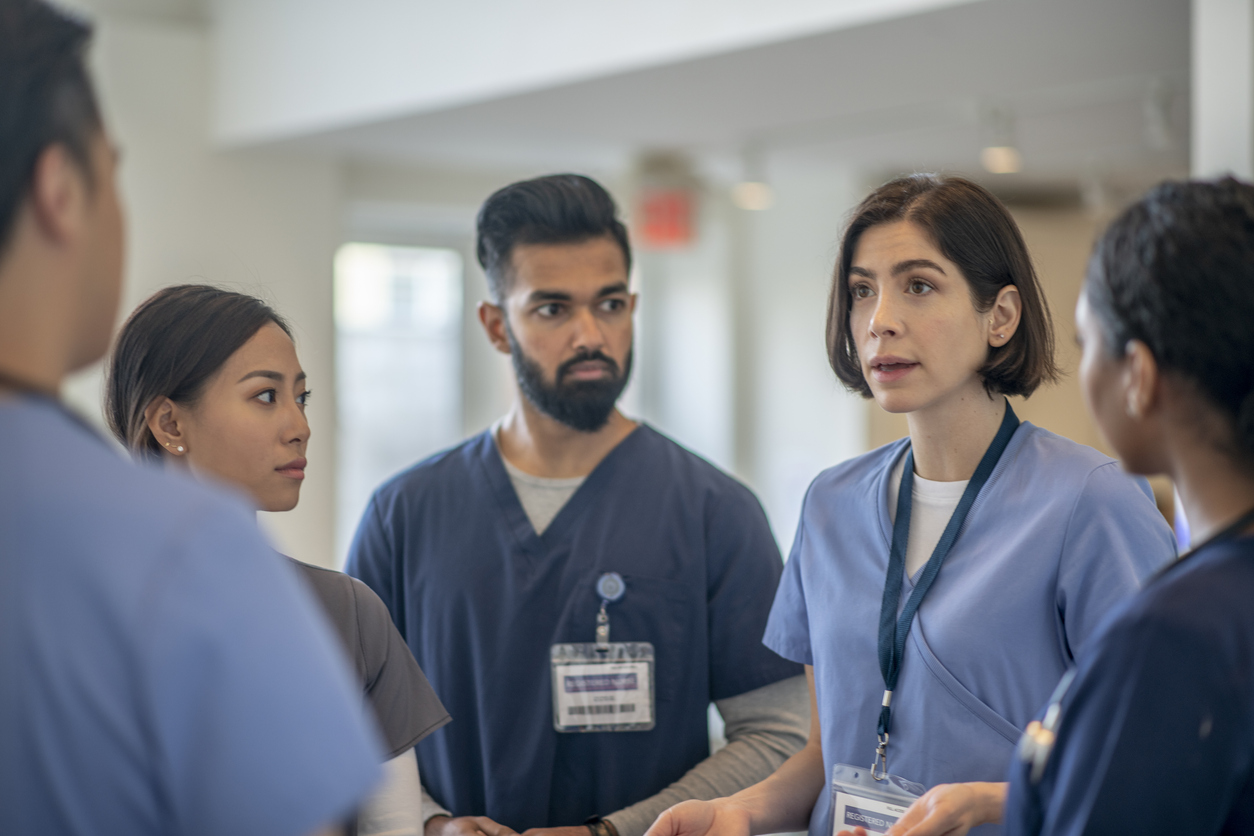 How to Become an APRN ¶
The American Medical Association projects that the nation will face a shortage of up to around 180,400 physicians by 2034. This shortage has far-reaching implications for patient access to health care, particularly in underserved areas.
In light of this, advanced practice registered nurses (APRNs) have emerged as increasingly indispensable members of the health care workforce, bridging gaps in care and ensuring that patients receive the attention they deserve. APRNs can step in and provide primary care services, diagnose and treat common illnesses, and assist patients in planning their treatments due to their advanced education, specialized training, and expanded scope of practice.
Nurses who are interested in taking their career to the next level should explore what the role entails and learn what it takes to become an APRN, including earning an advanced nursing degree.
What Does an APRN Do? ¶
APRNs are highly versatile professionals who can provide care in various settings and within numerous specialties. They can offer specialized care in fields such as mental health, pediatrics, women's health, and emergency medicine. Additionally, APRNs play a vital role in primary and preventive care, emphasizing the importance of wellness, health promotion, and disease prevention to their patients.
The primary difference between APRNs and RNs is their autonomy. APRNs may work independently or alongside doctors, often overseeing other nurses. APRNs can assess patient health, diagnose medical conditions, order lab tests, develop treatment plans, and even prescribe medication, depending on the regulations of the state where they practice.
APRNs often specialize in a specific role after additional training and education, which allows them to provide an advanced level of care to specific patient demographics or in certain care contexts, such as those who are pregnant or in surgery, that typical RNs cannot.
Some common roles APRNs specialize in include the following:
Certified Nurse Midwife (CNM) ¶
CNMs are APRNs who specialize in providing primary, gynecological, and reproductive health care, with a particular focus on pregnancy, childbirth, and postpartum care. They are qualified to deliver babies, provide prenatal care to mothers, and offer family planning services.
Nurse Practitioner (NP) ¶
NPs are APRNs who work closely with patients to provide comprehensive health care services, performing many of the same functions as a physician. They can diagnose and treat various health conditions, order diagnostic tests, prescribe medication, and offer patient education. NPs often serve as primary care providers but can also specialize in fields such as pediatrics, mental health, family medicine, and oncology.
Certified Registered Nurse Anesthetist (CRNA) ¶
CRNAs are APRNs who specialize in providing anesthesia care to patients undergoing surgical procedures. They work closely with surgical teams to ensure anesthesia is administered safely and monitor patient progress during a procedure. They may also provide pain management and emergency services as needed.
Benefits of Becoming an APRN ¶
For nurses, one of the key benefits of advancing to the level of APRN is the enhanced responsibility that comes with the role, as well as the opportunity to specialize. APRNs gain knowledge and expertise in their chosen field by obtaining advanced degrees and pursuing specialized training. This can lead to various career opportunities, allowing APRNs to take on leadership roles, pursue research or teaching positions, or contribute to shaping health care policies.
Their advanced training can also lead to greater autonomy. Many APRNs are licensed to assess, diagnose, and treat patients independently. This autonomy allows them to impact patient outcomes directly by prescribing medication, ordering diagnostic tests, and developing treatment plans. Because of this autonomy, they can also directly serve populations where the shortage of physicians is more pronounced.
An APRN's level of autonomy varies depending on the state where they practice. Roughly half of all states give NPs full practice authority, meaning they can independently provide many of the same services as physicians. In other states, NPs have reduced or restricted practice authority, which limits the services they can provide without oversight from another provider, typically a physician.
APRNs also have a unique opportunity to positively impact patient outcomes and bridge health care gaps caused by the physician shortage. With their advanced knowledge and skills, APRNs can provide comprehensive and accessible care to patients, especially in primary care settings. According to the American Association of Nurse Practitioners, more than 70% of NPs provide primary care, completing more than 1 billion patient visits each year.
Steps to Become an APRN ¶
One of the most crucial considerations for nurses looking into how to become an APRN are the role's educational requirements. Qualifying to practice as an APRN generally requires at least a Master of Science in Nursing (MSN) degree. While some MSN programs will consider applicants who have an Associate Degree in Nursing or similar certification, many require a Bachelor of Science in Nursing (BSN).
For practicing RNs, an RN-BSN program can be an excellent way to pursue career advancement, as these programs typically take less time than a traditional BSN.
After completing an MSN program, clinical experience is also necessary to become an APRN, with NPs requiring two years of clinical experience to be eligible for their license, alongside passing the relevant licensing exam.
Pursue an Advanced Nursing Careers ¶
As highly skilled nursing professionals, APRNs are uniquely positioned to close critical gaps in care created by provider shortages across the nation. Aspiring APRNs can hone the clinical expertise and leadership skills the role demands through advanced education and certification.
RNs interested in taking the next step in their professional journey should consider the benefits of a graduate degree, such as The University of Tulsa's Master of Science in Nursing (MSN) program. Earning an advanced degree, such as an MSN, is an essential step on the path to becoming an APRN.
The MSN program is designed for working nurses, with a flexible eight-week format and no clinical requirements. Explore the program and learn how TU can help you enhance your impact as a nurse leader.
Recommended Readings
How the Theory of Human Caring Applies to Nursing
What Is Roy's Adaptation Model of Nursing?
Sources:
American Academy of Nurse Practitioners Certification Board, Qualification of Candidates
American Academy of Nurse Practitioners Certification Board, Welcome to the American Academy of Nurse Practitioners Certification Board
American Association of Nurse Practitioners, Nurse Practitioners in Primary Care
American Association of Nurse Practitioners, State Practice Environment
American Medical Association, "Doctor Shortages Are Here — And They'll Get Worse if We Don't Act Fast"
American Nurses Association, Advanced Practice Registered Nurse (APRN)
Indeed, "What Roles Can an Advanced Practice Registered Nurse Pursue?"
International Journal of Nursing Studies Advances, "The Effectiveness of the Role of Advanced Nurse Practitioners Compared to Physician-Led or Usual Care: A Systematic Review"
U.S. Bureau of Labor Statistics, Nurse Anesthetists, Nurse Midwives, and Nurse Practitioners