Acute Care vs. Primary Care NPs: How Are They Different?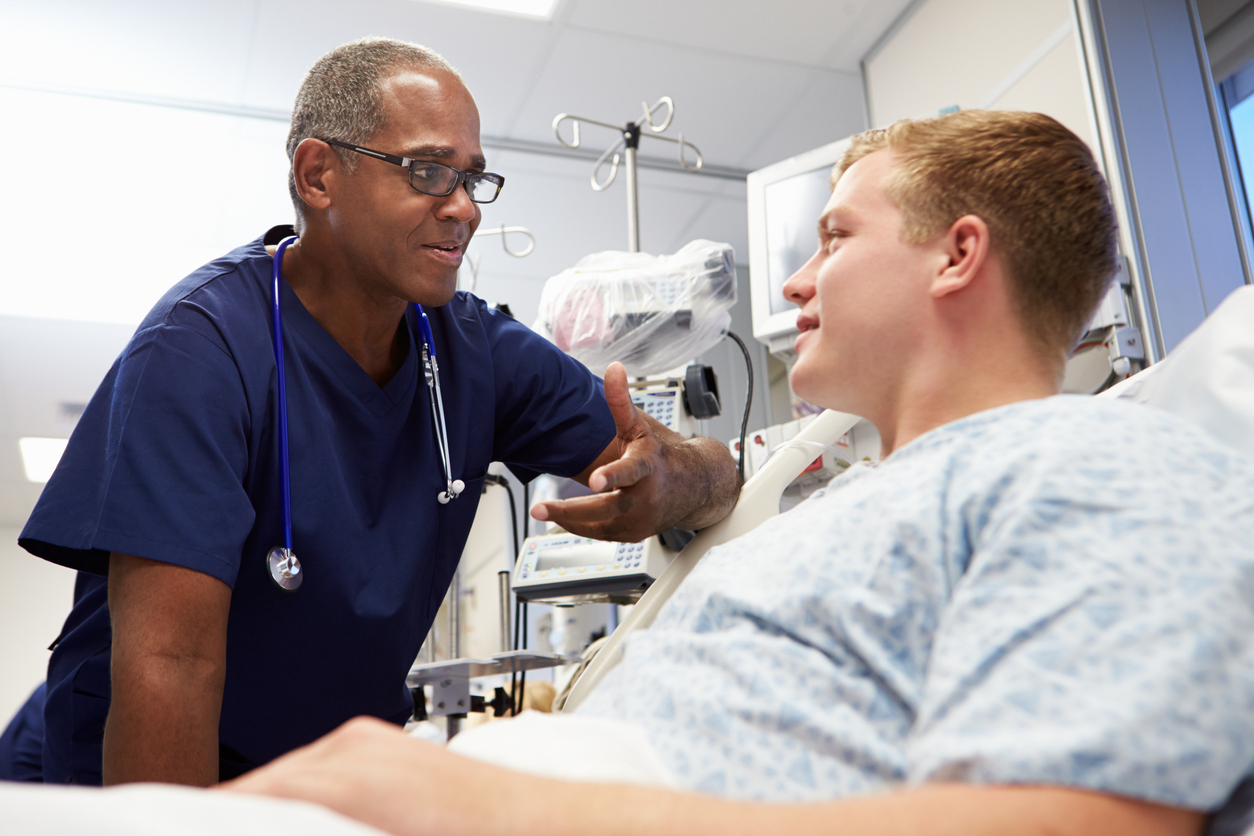 Acute Care vs. Primary Care NPs: How Are They Different? ¶
By 2034, the United States could face a shortage of up to 124,000 physicians, according to the Association of American Medical Colleges (AAMC). As the shortage of physicians mounts, the need for skilled providers, such as nurse practitioners, to fill gaps in care will also rise.
The American Association of Nurse Practitioners (AANP) reports that 355,000 licensed nurse practitioners make up the nurse practitioner workforce in the U.S. However, not all nurse practitioner roles are the same. For example, comparing acute care vs. primary care nurse practitioners (NPs) reveals key differences in their scope of practice, patients served, and work setting.
Understanding the distinctions between these roles can help nurses determine which specialty is the ideal fit for them, allowing them to pursue an advanced education that aligns with their career goals.
What Is Acute Care Nursing? ¶
When do patients need acute care vs. primary care? An acute care NP may treat patients injured in a car accident or those who have suffered burns in a fire, for example. They may also provide care to patients who have extremely high blood pressure or experience trouble breathing due to an asthma attack. In scenarios like these — where immediate attention is needed — patients often receive care from acute care NPs.
Acute Care NP Work Settings ¶
Acute care NPs often work in hospital settings, including emergency departments and intensive care and trauma care units. But job opportunities also exist in doctor's offices, urgent care centers, outpatient emergency clinics, and long-term care facilities.
Patients with acute care needs often transition to different settings. For example, a patient may be moved from the emergency department to the intensive care unit (ICU) to be closely monitored. Acute care NPs often oversee these transitions.
They are also responsible for educating patients on health and wellness topics and guiding acute care registered nurses in delivering exceptional care. It's important to note that responsibilities can vary due to factors such as the specific care environment or a patient's individual needs.
Acute Care NP Responsibilities ¶
Acute care NP specialties often focus on certain patient demographics. For example, adult-gerontology acute care NPs (AGACNPs) treat adult patients. From adolescents to older adults, AGACNPs are often the first point of care for patients who have episodic and chronic illnesses that need immediate attention.
The role of acute care NPs is to stabilize patients to avoid worsening symptoms. Their primary aim is to improve a patient's health status immediately. To achieve this, acute care NPs first gather patients' medical histories. They also conduct physical examinations to evaluate a patient's condition. Further evaluation may involve ordering screening and diagnostic tests. Acute care NPs then interpret test results and provide appropriate treatments, which may include prescribing medication.
Other responsibilities may include cleaning and dressing wounds, inserting intravenous lines, administering blood transfusions, managing catheters, and using medical equipment such as ventilators.
What Is Primary Care Nursing? ¶
Compared to an acute care NP, a primary care NP focuses on less urgent health matters, emphasizing the general health and wellness of their patients, which entails providing primary and preventive care. Like physicians, primary care NPs can evaluate and diagnose patients as well as provide health education.
Primary care NPs often help patients manage chronic health conditions — such as hypertension, diabetes, and respiratory illnesses — but can also diagnose and treat acute conditions.
Primary care NPs typically work in medical offices, clinics, and community health centers. However, job opportunities exist in any primary care setting. This can include nursing homes, schools, public health departments, homeless shelters, and more. Depending on the state where they practice, NPs may even be able to run their own private practice. According to the latest data from AANP, 28 states grant NPs full practice authority.
The vast majority of NPs (88%) are trained in primary care, and more than 70% of NPs who clinically practice deliver primary care services, AANP reports. However, within the scope of primary care, NPs can specialize in providing care to a specific patient population or in a particular type of care. For example, NPs trained in primary care can specialize in pediatric care or adult gerontology.
Acute Care vs Primary Care: Which Nurse Practitioner Path Is Right for You? ¶
Prospective nursing students or nursing professionals considering whether acute care or primary care is their preferred specialty should examine their individual preferences and career goals. Nurses who thrive under pressure and are capable of quick decision-making may do well in acute care settings.
If they prize building long-term patient relationships, the role of a primary care NP may be a good fit. Primary care NP roles often appeal to nurses who want to focus on health promotion and disease prevention. They are often passionate about education, chronic condition management, and holistic care.
The work environments of each role often differ as well. Acute care NPs often enjoy the dynamic atmosphere of emergency departments. These settings generally require fast-paced work and collaboration with other nurses and physicians.
Primary care NPs typically treat patients in less intensive settings, including clinics, community health centers, family medicine practices, and general practitioner offices. These environments are often the first point of contact for patients and enable primary care NPs to regularly meet with their patients during wellness visits and checkups.
In terms of compensation, both roles offer nurses the opportunity to make six-figure incomes. According to Payscale, acute care NPs earned a median annual salary of approximately $110,000 as of June 2023, while family nurse practitioners (who represent the majority of primary care NPs) earned around $102,000.
Both roles require an active RN license and a graduate degree. The differences often lie in the coursework and the licensing exams needed to practice. When comparing acute care vs. primary care NP roles, a nurse may be interested in doing both. If this is the case, exploring dual certification may be beneficial. Dual certification can expand skill sets and open opportunities for a wider range of roles. It also enables more seamless transitions between different health care settings.
Prepare to Make a Difference in Patients' Lives ¶
As a result of mounting health care provider shortages, gaps in care are growing across the country. Fortunately, nurses — and specifically nurse practitioners — possess the skills to meet this challenge. For those seeking to make a positive impact on patients' lives while meeting a pressing need in the health care system, becoming an NP may be the ideal path.
The journey toward becoming an NP, whether in acute or primary care, varies for everyone. Enrolling in a program like The University of Tulsa's Adult-Gerontology Acute Care Nurse Practitioner post-master's certificate can equip nurses with enhanced clinical and leadership abilities, enabling them to make a meaningful difference in the lives of patients.
Learn more about how the program can help you achieve your personal and professional goals.
Recommended Readings
Self-Care for Nurses: Strategies for the Modern Nurse
The Importance of Evidence-Based Practice in Nursing
What Is Roy's Adaptation Model of Nursing?
Sources:
American Association of Critical-Care Nurses, ACNPC-AG (Adult-Gero.)
American Association of Nurse Practitioners, "Are You Considering a Career as an Adult-Gerontology Acute Care Nurse Practitioner?"
American Association of Nurse Practitioners, "Are You Considering a Career as an Adult-Gerontology Primary Care Nurse Practitioner?"
American Association of Nurse Practitioners, NP Fact Sheet
American Association of Nurse Practitioners, Nurse Practitioners in Primary Care
American Association of Nurse Practitioners, State Practice Environment
American Nurses Association, Advanced Practice Registered Nurse (APRN)
American Nurses Association, Nurses in the Workforce
American Nurses Association, Types of Nurse Practitioner Specialties
Association of American Medical Colleges, "AAMC Supports Resident Physician Shortage Reduction Act of 2023"
Payscale, Average Acute Care Nurse Practitioner (ACNP) Salary
Payscale, Average Family Nurse Practitioner (NP) Salary
ShiftMed, "What Is An Acute Care Nurse?"
U.S. Bureau of Labor Statistics, Nurse Anesthetists, Nurse Midwives, and Nurse Practitioners