MSN vs. DNP: Differences Between the Degrees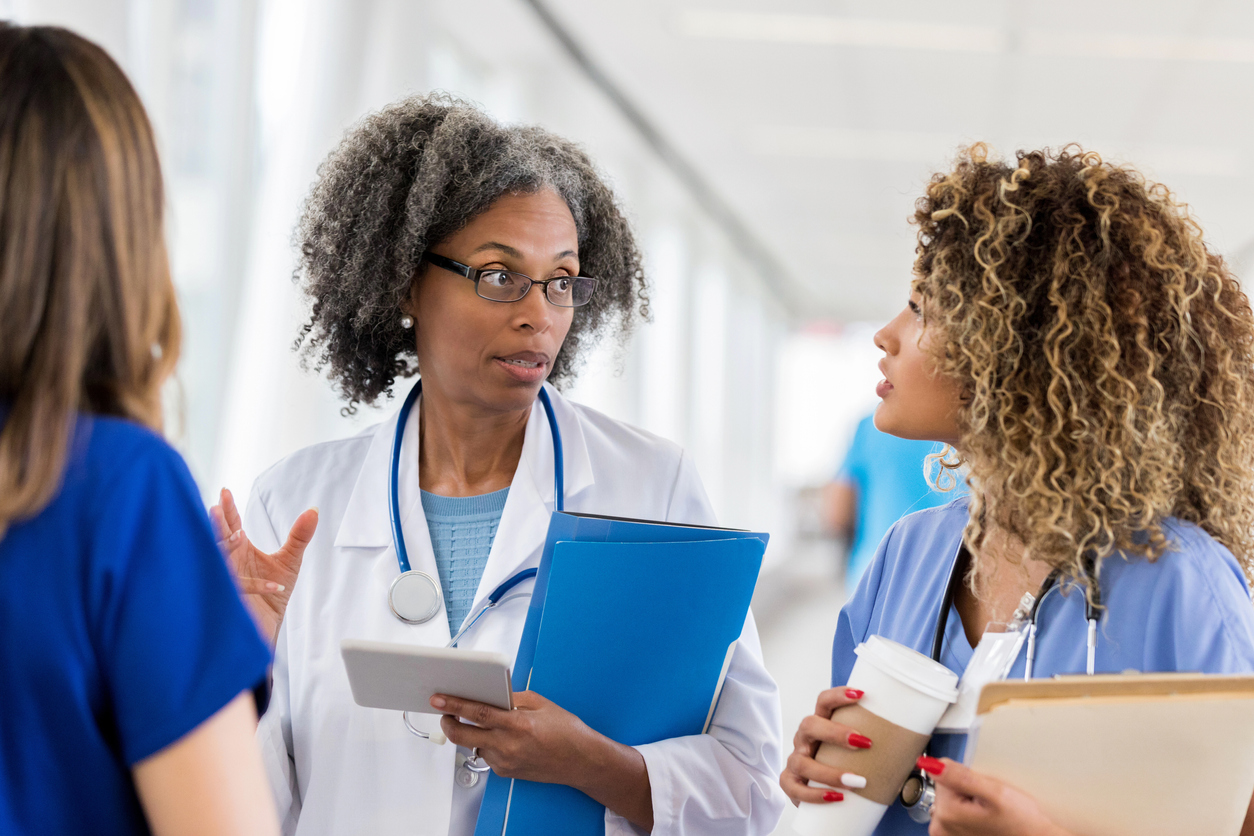 MSN vs. DNP: Differences Between the Degrees ¶
Earning a bachelor's degree in nursing can provide a host of opportunities to pursue a fulfilling career improving — and even saving — lives. But earning a master's or doctoral degree in nursing can open even more professional doors, while also enabling nurses to improve the quality of care they provide to patients.
The Master of Science in Nursing (MSN) and Doctor of Nursing Practice (DNP) are practice-focused postgraduate degrees, each one providing advanced education on the clinical processes and procedures used in high-level nursing careers. Nurses who earn these degrees can pursue advanced practice registered nurse (APRN) roles as nurse practitioners (NPs), for example. Often, these positions come with an increase in responsibility as well as compensation.
Additionally, earning a master's or doctoral degree can equip nurses with high-level knowledge and skills to meet the demands of the ever-changing health care industry. The American Association of Colleges of Nursing (AACN) encourages nursing professionals to pursue additional education to help ensure they are providing the highest quality of care.
Nurses seeking to advance their education may wonder which degree is the best fit: MSN or DNP. The two degrees differ in some critical areas, from curriculum to potential career outcomes.
But before comparing the MSN vs. the DNP, it's important to understand what each degree offers.
What Is an MSN Degree? ¶
MSN programs can prepare nurses for careers as NPs as well as a number of other high-level nursing roles, many of which focus on caring for a specific type of medical condition or patient population. In these positions, nurses may provide direct patient care or influence the type of treatment that other medical professionals provide.
MSN Curriculum ¶
While there are many types of MSN programs — including those for RNs with associate degrees and those for individuals who have a non-nursing bachelor's — many are designed for nurses who hold a Bachelor of Science in Nursing (BSN). These BSN to MSN programs generally take between one and three years to complete, with many online programs allowing students to progress at a pace that accommodates their other commitments.
The MSN curriculum commonly focuses on topics such as:
Advanced health care practices
Health promotion
Pharmacology
Health care policy
Leadership concepts
Many MSN programs provide students with the opportunity to specialize their practice, with coursework that drills down into subjects specific to their chosen concentration.
MSN Career Outcomes ¶
The MSN is the most common degree held by APRNs, including nurse practitioners. But the NP role is just one of the professions that MSN-educated nurses can pursue.
Roles that nursing professionals with an MSN may pursue include:
Nurse Practitioner: Provides primary and specialty care to patients, typically specializing in treating certain conditions or patient demographics
Clinical Nurse Leader (CNL): Manages the coordination of care for a nursing unit's patients and seeks ways to improve clinical practices and patient care
Nurse Educator: Shares clinical expertise with new nurses and experienced nurses who seek to advance their skills
Nurse Administrator: Leads teams of nurses and is responsible for administrative duties such as hiring, budgeting, and scheduling
Nurse Practitioner Specializations ¶
Nurse practitioner is one of the most common career outcomes for MSN graduates, with multiple options for specialization.
The American Association of Nurse Practitioners (AANP) reports the top NP certifications from 2022, along with the percentage of nurse practitioners in those specializations.
Family Nurse Practitioner (FNP) — Held by 70% of NPs, focuses on primary care for patients of all ages
Adult-Gerontology Primary Care Nurse Practitioner (AG-PCNP) — Held by 9% of NPs, provides primary care for adult patients
Psychiatric/Mental Health Nurse Practitioner (PMHNP) — Held by nearly 7% of NPs, offers mental health care for patients of all ages
Adult-Gerontology Acute Care Nurse Practitioner (AG-ACNP) — Held by 6% of NPs, focuses on the treatment of sudden and severe health concerns for adult patients
What Is a DNP Degree? ¶
While the MSN and DNP are both graduate degrees, the DNP represents the pinnacle of nursing education. There are other doctoral degrees in nursing, namely the Doctor of Philosophy (Ph.D.) and Doctor of Nursing Science (DNS), but these emphasize research over clinical practice.
DNP Curriculum ¶
In addition to covering clinical subjects, the DNP emphasizes nursing leadership/administration and the application of evidence-based research into practice.
The length of time it takes to earn a DNP varies, depending on the level of education students in the program have achieved. Some DNP programs offer tracks for nurses who already have an MSN, while others offer an expedited path to a DNP for BSN-educated nurses. DNP programs also generally involve a clinical hour requirement.
Typical courses in a DNP curriculum cover the following topics.
Applied statistics
Systems leadership
Financial management
Interpersonal communication
Policy development
DNP Career Outcomes ¶
Nurses who earn a DNP can also pursue roles as nurse practitioners, focusing on one or more of the practice areas in which NPs can earn certification. Additionally, nurses with a DNP may hold a variety of leadership or administrative positions. Some career options for DNP-educated nurses include:
Chief Nursing Officer (CNO): Oversees the procedures and administrative and operational functions of nurses at a health care facility
Health Care Lobbyist: Works with lawmakers to inform their decision-making on health care legislation
Clinical Instructor: Educates nursing students in a clinical environment, providing them with real-world experience
MSN vs. DNP: 3 Key Differences ¶
There are parallels between the MSN and DNP. They cover similar concepts and both offer opportunities for career advancement, for example. But the programs differ in notable ways, and understanding these distinctions is crucial for those who want to advance their nursing education. Following are three key differences between MSN and DNP degrees.
Degree Focus ¶
The MSN and DNP are both advanced degrees, but the DNP is the highest practice-focused nursing degree available. DNP programs typically focus not only on clinical practices but also on the improvement of health care overall through research and policy. The MSN, on the other hand, often places a greater emphasis on clinical learning.
Program Requirements ¶
Both practice-focused postgraduate nursing programs require students to carve out time for additional learning, but the clinical and project requirements of the DNP generally mean those programs take longer to complete. The University of Tulsa's MSN program has no clinical hour requirement.
Career Focus ¶
Both the MSN and DNP can help nurses elevate their careers — and the responsibility and pay levels that accompany that advancement. Both degrees can help nurses become APRNs, including specializing in different nurse practitioner areas. In some cases, however, the jobs the degrees prepare students for vary.
While both MSN and DNP graduates can pursue leadership positions, an MSN often leads to advanced nursing roles that are more likely to entail direct patient care when compared with the positions that DNP-educated nurses often pursue, including roles in administration, research, and education.
Advance Your Nursing Expertise and Career ¶
Nursing professionals who wish to advance their education and career prospects can benefit from comparing the MSN vs. DNP degree programs. Those who decide the advantages of an MSN degree are right for them should explore the online Master of Science in Nursing program at The University of Tulsa.
The program is designed with working nurses in mind, with multiple starts each year to accommodate their busy schedules, allowing them to enroll in just a single course per term if needed. Additionally, TU's MSN program features four distinct tracks — Leadership and Innovation; Education and Elevation; Public Health Global Vision; and Informatics and Analytics — so nurses can tailor their education to their ideal career outcome.
Discover how TU's online MSN can help you achieve your professional goals and improve patient care.
Recommended Readings
The Benefits of Nurse Mentoring
How to Become a Research Nurse
Self-Care for Nurses: Strategies for the Modern Nurse
Sources:
American Association of Colleges of Nursing, Master's Education
American Association of Nurse Practitioners, NP Fact Sheet
Healthline, "What Do Nurse Practitioners Do?"
Incredible Health, "MSN vs. DNP: What's the Difference?"
Indeed, "20 Benefits of Earning a Master's Degree in Nursing"
Indeed, "Learn About Becoming a Healthcare Lobbyist"
Indeed, "MSN vs. DNP: Definitions, Differences and Tips"
Indeed, "Role of Evidence-Based Practice in Nursing (5 Benefits)"
Indeed, "What Do Nurse Administrators Do?"
Indeed, "What Is a Chief Nursing Officer and How Do You Become One?"
U.S. Bureau of Labor Statistics, Nurse Anesthetists, Nurse Midwives, and Nurse Practitioners