The Benefits of Making a Career Change to Nursing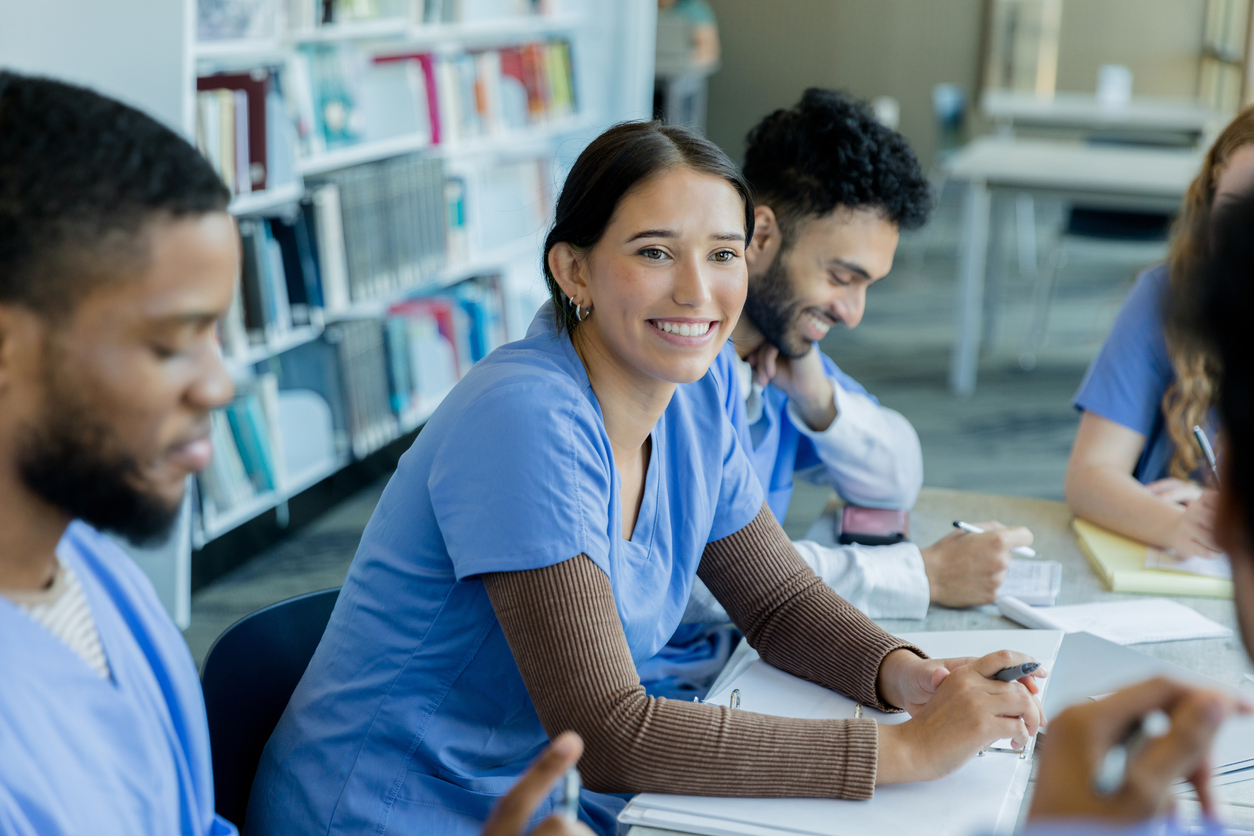 The Benefits of Making a Career Change to Nursing ¶
If you've been contemplating switching to a new career, you're not alone. About 30% of U.S. workers changed jobs in 2022, and about half of those individuals switched to a new industry or occupation, according to Pew Research Center.
Whether they're seeking new challenges, looking for more job stability, or hoping to earn a better salary, people aren't hesitating to branch out professionally. Among the new occupations that individuals are entering is nursing, a profession that offers rewarding work, steady employment, and attractive compensation. Nurses are the foundation of the country's health care system, and nursing can be a deeply fulfilling career.
Anyone who is considering making a career change to nursing and enrolling in a nursing program can benefit from exploring the field of nursing and the advantages of the profession in more detail.
Trends in Nursing Program Enrollment ¶
Enrollment in entry-level Bachelor of Science in Nursing (BSN) programs increased each year between 2001 and 2021, according to the American Association of Colleges of Nursing (AACN). Even in the first two years of the COVID-19 pandemic, enrollment continued to rise. Specifically, the AACN reported that enrollment in entry-level baccalaureate nursing programs:
Increased by 5.6% in 2020
Increased by 3.3% in 2021
While enrollment in entry-level BSN programs declined 1.4% in 2022, the AACN noted that a one-time decrease may not signal a trend.
A notable change in the field is that the pandemic compelled many institutions to innovate and approach nursing education in new ways, creating greater access to such programs. For example, a number of institutions:
Began offering more courses online. This improved flexibility in nursing education, which could enable more students to pursue a career in nursing.
Began substituting virtual simulations for onsite clinical placements. This expanded students' options for receiving clinical experience and education.
Reasons Individuals Make a Career Change to Nursing ¶
Individuals have many reasons for exploring a career change to nursing. Below are some examples of the motivations that drive individuals to pursue a career in the field.
A Desire to Help People in Need ¶
The desire to make a difference and help others can motivate individuals to switch to a nursing career. Applying their expertise and experience to improving their patients' lives often gives nurses a tremendous sense of fulfillment and purpose.
Helping others also garners nurses a great deal of respect. In 2022, for example, a Gallup survey found that nurses received the highest ratings for honesty and ethics among 18 professions. More than 75% of individuals surveyed ranked nurses' honesty and ethical standards as high or very high.
Exposure to Nursing Through Personal Experiences ¶
People may also be motivated to enter the nursing profession as a result of personal experience or witnessing the experiences of family members. Individuals whose lives have been impacted by nursing care have the opportunity to observe the critical role that nurses play, which can inspire them to pursue a career in nursing themselves.
Opportunities to Promote Health and Well-Being ¶
Entering the nursing profession also enables individuals to promote health and well-being. Nurses have the opportunity to educate patients regarding healthy behaviors and support them in making lifestyle changes that can improve their health. As they advance in their careers, nurses may also have opportunities to participate in promoting health awareness across their communities.
The Ability to Specialize in a Preferred Area of Health Care ¶
Within nursing, there are numerous areas of specialization, allowing individuals to pursue career paths that align with their interests. For example:
Individuals who have a strong desire to provide health care to infants can specialize in neonatal nursing.
Individuals who are interested in providing end-of-life care can specialize in hospice nursing.
Individuals who want to promote community health and wellness can specialize in public health nursing.
Job Prospects, Competitive Salaries, Flexible Schedules, and Career Advancement ¶
Several practical aspects of the profession can also spur interest in switching to a new career in nursing. Favorable job prospects and competitive salaries are both attractive features of a nursing career. Combine those attributes of the profession with the potential for flexible scheduling, and a nursing career can become even more desirable. Nurses also have extensive opportunities for career advancement, which can appeal to individuals who aspire to move up the career ladder.
Experiences During the COVID-19 Pandemic ¶
The COVID-19 pandemic underscored the heroic work that nurses and other frontline health care professionals perform, as well as the importance of the nursing profession to health care. This inspired many individuals to enter the nursing profession to perform rewarding work that truly makes a difference.
The pandemic also highlighted vulnerabilities in the health care system, such as the ongoing shortage of nurses. This motivated many individuals to pursue a career in nursing. An increase in a general desire to help others during this time also fueled interest in the nursing profession.
Aspiring nurses may have also noticed that nurses who work in advanced roles played a key role during the COVID-19 pandemic. Many states eased restrictions on the scope of work that advanced practice registered nurses (APRNs), including nurse practitioners, could perform. Recognizing that APRNs can make significant contributions to health care, some states have made the temporary expansions in APRN authority permanent. This has the potential to expand the profile of APRNs in health care and enable them to practice with more autonomy.
One of the Primary Benefits of Being a Nurse: The Opportunity to Improve Patients' Lives ¶
Becoming a nurse enables individuals to improve the lives of their patients, one of the most significant benefits of being a nurse. Numerous studies have illustrated the positive impact nurses have on patients' health and well-being. For example:
Health interventions led by registered nurses (RNs) in primary care were effective in improving patients' quality of life and healthy behaviors, according to a 2022 study published in BMC Health Services Research. Patients showed improvements in areas such as blood pressure, exercise, diet, muscle strength and endurance, and reduced tobacco use.
Nurse practitioners enhance patient care, patient satisfaction, and the cost-effectiveness and efficiency of health care across all health care settings, according to a 2021 study published in the International Journal of Nursing Studies Advances.
However, a nurse's obligations go beyond the direct provision of care and include a range of responsibilities that prioritize patients' health and safety. For example, nurses:
Help patients make informed decisions. Nurses strive to ensure that patients have the information they need to make informed decisions about their health care. As the primary point of contact for many patients, nurses often provide information about patients' conditions and explain treatment options to patients and their families.
Advocate for their patients. One of a nurse's primary roles is that of patient advocate. When nurses observe incompetent or impaired health care practices, they have an obligation to act in their patients' best interests. In addition, nurses promote a culture of safety that helps to ensure that health care organizations investigate and manage medical errors and near misses in an appropriate manner.
Work to reduce health disparities. Nurses act in concert with other health care professionals to identify ways to reduce disparities in health care and eliminate barriers that prevent individuals from receiving care.
Nursing Is an In-Demand Field With Strong Salary Potential ¶
Nursing may be an attractive profession for individuals seeking stable employment, a good salary, and a flexible work schedule. These practical perks are among the many other benefits of being a nurse.
Nurses Are in Demand ¶
The nation's ongoing nursing shortage means there are ample employment opportunities for nurses and the potential for steady employment. The U.S. Bureau of Labor Statistics (BLS) projects that the U.S. health care system will have:
Approximately 203,200 openings for RNs each year through 2031
Approximately 30,200 openings for nurse anesthetists, nurse midwives, and nurse practitioners each year through 2031
The numerous job openings in nursing are attributable to factors such as: ¶
A need to replace nurses who change careers or retire
An aging population whose health care needs will continue to grow as people become older
Registered nurses will be needed across all health care settings over the next decade, according to the BLS. Additionally, a trend toward providing more health care in patients' homes and in residential facilities will drive increased demand for RNs in those settings. Overall, employment of registered nurses will grow by 6% over the next decade, adding nearly 200,000 new RNs to the workforce.
The job outlook is especially bright for nurse practitioners. The BLS projects 46% job growth for nurse practitioners through 2031, making it the fastest-growing occupation in the country. Nurse practitioners can be particularly helpful in addressing the ongoing shortage of primary care physicians and mental health professionals. Their services are especially crucial in rural areas, where access to health care is often limited.
Nurses Earn Attractive Salaries ¶
In addition to enjoying strong employment prospects, nurses also earn generous salaries. According to the BLS, as of May 2021:
Registered nurses earned a median annual salary of $77,600, far greater than the median for all occupations, which was $45,760.
Nurse anesthetists, nurse midwives, and nurse practitioners earned a median annual salary of $123,780.
These figures are meant to serve as a baseline. Individual salaries can vary based on factors such as geographic location, employer, years of experience, and education.
Nurses Can Work Flexible Schedules ¶
Switching to a career in nursing can be appealing to individuals who are looking for a flexible work schedule. While nurses typically work three 12-hour shifts per week, many health care organizations have begun to offer other types of shifts that provide more flexibility, such as:
Split shifts that are shorter in duration than a typical 12-hour shift
Team schedules that enable a group of nurses to work the same block of time for a set period of time
Shifts that offer nurses variety by enabling them to work in multiple care areas (such as critical care, emergency care, or pediatric care)
Additionally, although the vast majority of nursing care is delivered in person, opportunities for nurses to work remotely are growing. For example, some health care organizations are hiring virtual nurses to provide support to bedside nurses, while others are hiring virtual nurses to see patients at home via telehealth technology.
Nurses Enjoy Numerous Opportunities for Career Advancement ¶
Nursing is also an appealing profession for the many advancement opportunities it offers. Nurses can capitalize on their expertise and experience to take their careers in many directions.
Nurses Can Pursue Advanced Clinical Roles ¶
Registered nurses may wish to advance to clinical roles that offer greater responsibility. Becoming an APRN, for example, enables nurses to expand their expertise and offer patients more comprehensive health care services. Pursuing advanced clinical roles typically requires nurses to earn a graduate degree, such as a Master of Science in Nursing (MSN) or Doctor of Nursing Practice (DNP) degree.
Working in advanced clinical roles also enables nurses to specialize. For example, nurse practitioners can specialize in areas such as:
Adult-gerontology acute care
Adult-gerontology primary care
Family care
Pediatrics
Psychiatric and mental health
Women's health
Nurses Can Put Their Expertise to Use in Medical Research ¶
Nurses who want to contribute to advances in medicine can work in medical research. Clinical research nurses provide care to patients who are participating in clinical trials. They administer treatments, collect patient data, and advocate for their patients to ensure that they receive the highest standard of care. Clinical research nurses also have opportunities to help design clinical trials and screen patients for those trials.
Nurses Can Focus on Providing Nursing Education ¶
Nurse educators provide training to nurses who work for a health care organization. They may train nursing staff on an organization's strategies for patient care, changes in nursing standards, or how to use medical equipment. Nurses can also become members of a nursing school's faculty, providing formal education to the next generation of nurses and conducting research in nursing practice.
Nurses Can Ascend to Executive Positions ¶
Changing to a career in nursing can also enable an individual to ascend the career ladder to an executive role. For example, nurses can apply their experience and knowledge as a chief nursing officer, a position responsible for all aspects of a health care organization's nursing practice. Chief nursing officers apply their clinical expertise to improve an organization's models of nursing care and oversee quality of care and patient safety. They're also responsible for making financial forecasts and developing high-level organizational strategies.
Nurses Can Apply Their Skills in Information Technology ¶
Nurses who have an interest in combining their clinical expertise with information technology can become nurse informaticists. In this position, nurses assess and select automated systems that support other nurses. They also train nurses to use these systems and develop policies and procedures to regulate the use of those systems. In addition, nurse informaticists perform data analysis to identify ways to improve patient care and increase efficiencies in health care.
Nurses Can Establish Their Own Businesses ¶
Nurses with an entrepreneurial spirit can open their own businesses. For example:
Where permissible by state law, nurse practitioners can open private practices.
Nurses can open nurse consulting firms to offer their expertise in legal cases.
Nurses can open independent patient advocate businesses or health care navigator businesses to offer support and information to patients and caregivers when they are making health care decisions.
Nurses can start health coaching firms to help clients meet their health goals.
Finding a New Purpose in Nursing
Making a career change to nursing is a great option for anyone seeking meaningful work with stable employment and good compensation. Beyond the practical advantages of the profession, nurses have the privilege of providing services that can make a significant difference in their patients' lives.
Individuals who have an interest in switching to nursing from a different field should explore The University of Tulsa's online Accelerated Bachelor of Science in Nursing program to learn how it can help them achieve their professional goals. Offering students the opportunity to earn a nursing degree on a streamlined schedule, the program can lay the groundwork for a fulfilling career change. Start your journey to a new career today.
Recommended Readings
The Importance of Evidence-Based Practice in Nursing
Self-Care for Nurses: Strategies for the Modern Nurse
Sources: Alliance of Professional Health Advocates, An Overview of the Profession of Health and Patient Advocacy
American Association of Colleges of Nursing, "New Data Show Enrollment Declines in Schools of Nursing, Raising Concerns About the Nation's Nursing Workforce"
American Association of Nurse Practitioners, NP Fact Sheet
American Nurses Association, "Code of Ethics for Nurses"
ANA Enterprise, Chief Nursing Officer/Chief Nurse Executive
ANA Enterprise, Nurse Educator
ANA Enterprise, "Nursing as a Second Career"
Becker's Hospital Review, "Nurse Practitioners Often an Untapped Solution to Workforce Shortages, AANP President Says"
BioSpace, "A Guide to Becoming a Clinical Research Nurse"
BMC Health Services Research, "Effectiveness of Registered Nurses on Patient Outcomes in Primary Care: A Systematic Review"
BMC Nursing, "Nurses' and Nursing Students' Reasons for Entering the Profession: Content Analysis of Open-Ended Questions"
Caring Nurses, "What Motivates You to Become a Nurse?"
Cleveland Clinic, "Flexible Scheduling Helps Attract and Retain Nurses"
Fierce Healthcare, "Workforce of Psychiatric Nurse Practitioners More than Doubled, Filling Unmet Gaps for Mental Health Care"
Gallup, "Nurses Retain Top Ethics Rating in U.S., but Below 2020 High"
Healthcare Information and Management Systems Society, Informatics Nurses Make a Difference HealthTech, "The Rise of the Virtual Nurse"
Indeed, "10 Ideas to Become a Self-Employed RN (With Launching Tips)"
Indeed, "20 Top Nursing Specialties (With Career Descriptions and Salaries)"
Indeed, "How to Become a Nurse Health Coach (Plus Primary Duties)"
Indeed, "Nurse Schedules: Pros, Cons and Tips"
Indeed, "What Is a Nurse Informaticist and What Do They Do?"
International Journal of Nursing Studies Advances, "The Effectiveness of the Role of Advanced Nurse Practitioners Compared to Physician-Led or Usual Care: A Systematic Review"
National Rural Health Association, "The Benefits of Being a Rural Nurse Practitioner"
NP Advantage, How to Start a Nurse Practitioner Private Practice: The Complete Guide
Nurse Education Today, "Reasons for Choosing and Completing Nursing Studies Among Incoming and Outgoing Students: A Qualitative Study"
The Nurse Practitioner, "35th Annual APRN Legislative Update; Updates to APRN Practice Authority in the United States"
Nursing Praxis, "Innovations in Nursing Education in Response to the COVID-19 Pandemic: A Scoping Review"
Osmosis, "Advanced Practice Registered Nurses: What They Do, How to Become One, and More"
PBS NewsHour, "How the Pandemic Spurred American Students to Pursue Health Care Careers"
Pew Research Center, "Majority of U.S. Workers Changing Jobs Are Seeing Real Wage Gains"
U.S. Bureau of Labor Statistics, Fastest Growing Occupations
U.S. Bureau of Labor Statistics, Nurse Anesthetists, Nurse Midwives, and Nurse Practitioners
U.S. Bureau of Labor Statistics, Registered Nurses
Washington Center for Nursing, Career Paths / Nursing Specialties