RN TO BSN PROGRAM
ADVANCE YOUR CAREER. REVITALIZE PATIENT CARE.
Nursing Career Advancement — In as Little as 12 Months ¶
You've administered vital care to patients as a registered nurse, but now you're ready to apply that experience in a leadership role that allows you to go beyond the bedside. The University of Tulsa's online RN to Bachelor of Science in Nursing (RN to BSN) program is designed for RNs who want to take the next step in their career and fast-track the path to nursing leadership.
At TU, you'll receive one-on-one support from our accomplished faculty who take the time to understand your goals and set you on the right course to achieve them. You'll learn new concepts and further develop the soft skills — such as communication, critical thinking, and self-care — that make for well-rounded nurse leaders.
Graduates of TU's RN to BSN program are automatically accepted into the online Master of Science in Nursing (MSN), a 30-credit hour program designed for working nurses who want to continue advancing their professional skill set.
TU nurses rise to the top challenges in health care and create future-ready solutions. You're what nursing needs. We're what you need to get there.
If you're not already a licensed RN and you have a bachelor's degree in a non-nursing field, TU's online Accelerated Bachelor of Science in Nursing (ABSN) can expedite your path to a nursing career.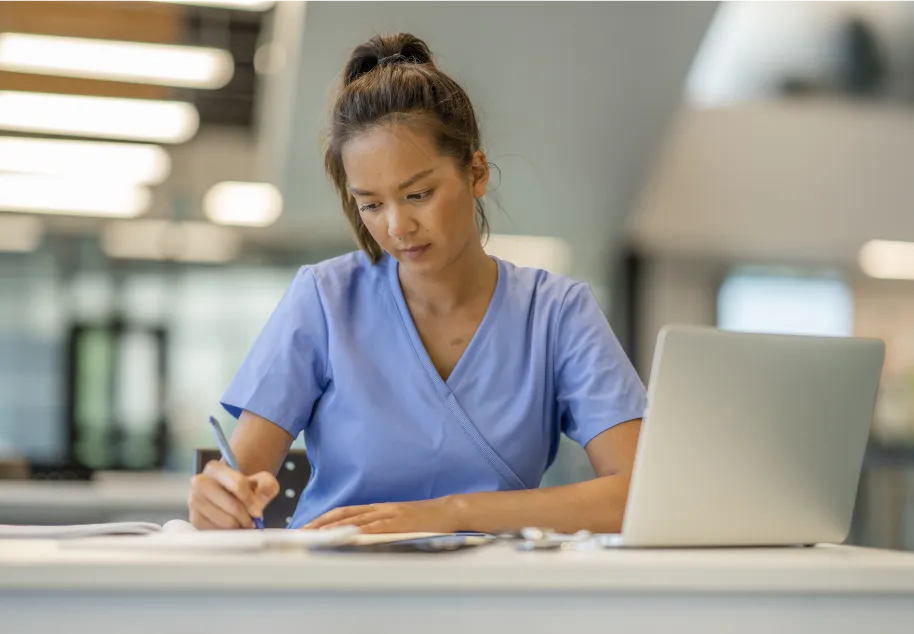 Earn Your RN to BSN Online at TU
Our online RN to BSN, accredited by Accreditation Commission for Education in Nursing (ACEN), builds on your existing nursing experience to help you develop new, transformative nursing skills. Our accomplished, committed faculty offer individualized mentorship and career assistance opportunities, taking the time to ensure you're prepared for meaningful career gains.
We include the Roy Adaptation Model, a theoretical framework that gives a holistic and collaborative lens to complex health care problems, throughout the curriculum. Here are some general topics you'll encounter in the online RN to BSN online coursework:
The nursing process as a way to help individuals and families adapt to acute disruptions of health
Social determinants of health and correlations between socioeconomic status and health outcomes
Skills development in written and oral communication for relevant aspects of nursing
Explore Your Career Potential With an RN to BSN Online
The RN to BSN program is the perfect fit for registered nurses looking to advance into leadership roles. Take a look at some potential careers you can reach with this degree*:
Median Annual Salary: $91,682
Median Annual Salary: $77,580
Median Annual Salary: $77,054
Median Annual Salary: $73,512
Median Annual Salary: $73,353
*Salary data from Payscale
Curriculum & Courses
Designed for active registered nurses with an associate degree in nursing, the RN to BSN online program is built on 35 core credits* and offered in an accelerated eight-week format to allow for multiple starts each year. No clinicals are required for degree completion.
*Please note that the total credit hours required may vary based on your individual official transcript evaluations and professional portfolio credit worksheet.
View full curriculum details in The University of Tulsa course catalog.
Online RN to BSN Degree Path
| Term Courses | Credits |
| --- | --- |
| Term I Courses | |
| NSG 3053 Health Assessment | 3 |
| NSG 3063 Theoretical Frameworks in Nursing | 3 |
| Term II Courses | |
| NSG 4013 Nursing Care of the Family | 3 |
| ENGL 3003 Writing for the Professions | 3 |
| Term III Courses | |
| NSG 4543 Quality Across Health Care Systems (II) | 3 |
| NSG 4023 Informatics in Healthcare | 3 |
| Term IV Courses | |
| HCDS 2013 In Sickness and in Health | 3 |
| NSG 4263 Leadership / Nursing Science V | 3 |
| Term V Courses | |
| AHS 4045 Health Care Research with Statistics | 5 |
| Term VI Courses | |
| NSG 3073 Population Health | 3 |
| NSG 4643 Capstone | 3 |
| Total Core Credits | 35* |
Tuition and Financial Aid
Are you ready to invest in your future with an online RN to BSN at The University of Tulsa? TU brings you an elite private nursing education at a competitive price and offers pre-semester monthly payment plans for your convenience. Our program equips you with clinical knowledge and leadership skills to achieve your career goals and realize your full earning potential.
*Please note that the total credit hours required may vary based on your individual official transcript evaluations and professional portfolio credit worksheet.
LEARN MORE
We teach the hard sciences alongside valuable soft skills, preparing you to take the lead in your career.
Our RN to BSN program focuses on development of new skills instead of reteaching nursing practices students already know.
Our faculty includes certified nurse educators and advanced practitioners, with 60% holding a doctorate.
Our educators take the time to provide one-on-one academic support and career guidance.
We shape our programs around current industry needs, preparing you to face them with confidence.
TU grads are consistently recognized as capable leaders by partner hospitals and patients.
THE NEXT CLASS START DATE IS OCTOBER 16, 2023. DON'T WAIT TO APPLY!
Fast Career Advancement
Offered in accelerated eight-week courses, the RN to BSN can be completed in as little as 12 months, allowing you to make efficient, meaningful strides in your career with the added flexibility of online learning.
What You Need for Admission
The University of Tulsa is home to ambitious learners with diverse backgrounds and experiences who seek impactful roles in nursing. Please review the below requirements for admission to the RN to BSN online program at TU.
Unofficial college transcripts
An associate degree from a regionally accredited institution
TRANSFER CREDIT GUIDELINES
Please note that the total credit hours required may vary based on your individual official transcript evaluations and professional portfolio credit worksheet.
The RN to BSN program requires a total of 125 credit hours
Students must complete at least 35 credit hours at TU

TU applicants to the RN to BSN program may transfer up to 90 credits:

50 credits may be applied towards the general education requirements

With an associate degree and an RN license, 22 credits will be applied toward foundational nursing courses

Up to 18 additional transfer credits may be awarded upon submission and review of a professional portfolio. Applicants with less than 18 credits from professional experience will necessitate additional coursework. Acceptable portfolio materials include:

Documentation of advanced certification
Work experience as a registered nurse
Continuing education program credits
Professional association membership
Nursing leadership roles
Participation in nursing research
Peer-reviewed publications
Presentations at health care conferences

Note: Applicants who have worked at least 12 months as an RN may complete the Professional Portfolio Credit Worksheet to have work experience evaluated for credits. Applicants who are early in their nursing careers may still be eligible to receive professional transfer credits, as long as they achieve at least 12 months of work experience while enrolled in the program. RN to BSN students may apply for professional credit evaluation at any time while enrolled.

Electives and block credits are transferable

Non-nursing credits earned from regionally accredited colleges and universities are generally transferable if:

A grade of C or better has been earned in the course
The University of Tulsa offers a comparable course

Pass/fail courses are not transferable unless a grade of C or better can be documented
APPLY NOW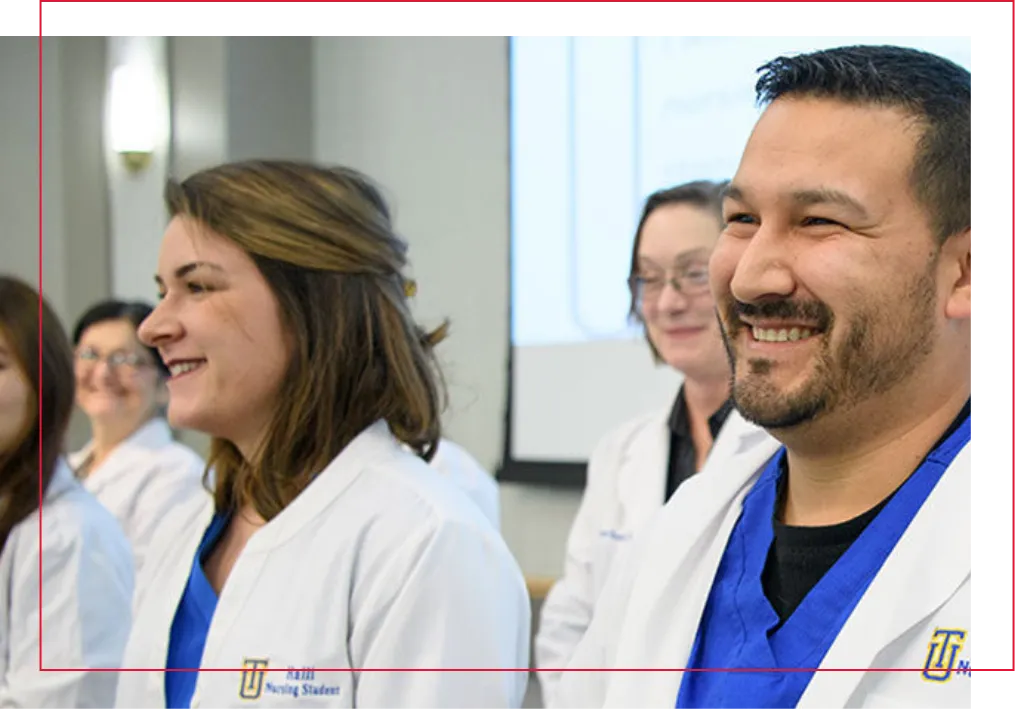 About The University of Tulsa
The University of Tulsa is known for its long-standing legacy of producing skilled and hard-working nurses, dating back to its first graduating class from the School of Nursing in 1973. TU's online programs are sharing this reputation of academic excellence with a cohort of learners across the United States, preparing a new generation of future-ready nurses, compassionate caregivers, and nursing leaders to thrive in their field.
Want to hear more about online programs at The University of Tulsa?
Fill out the form below, and an admission counselor will reach out to you via email or phone with more information. After you've completed the form, you'll be automatically redirected to learn more about TU and your chosen program.
or call +1 (918) 612-5036
By submitting this form, I am providing my digital signature that The University of Tulsa may email me or contact me regarding educational services by telephone and/or text message utilizing automated technology at the telephone number provided above. I understand this consent is not a condition to attend The University of Tulsa or to purchase any other goods or services.
Thank you for your interest!
Redirecting you now...