Expedite Your Path to a Nursing Career
Online Accelerated BSN Program
Want to hear more about online programs at The University of Tulsa?
Fill out the form below, and an admission counselor will reach out to you via email or phone with more information. After you've completed the form, you'll automatically be redirected to learn more about TU and your chosen program.
OR CALL +1 (918) 612-5036
By submitting this form, I am providing my digital signature that University of Tulsa may email me or contact me regarding educational services by telephone and/or text message utilizing automated technology at the telephone number provided above. I understand this consent is not a condition to attend University of Tulsa or to purchase any other goods or services.
Thank you for your interest!
Redirecting you now...
Earn Your Nursing Degree in as Few as 18 months ¶
Do you see a future for yourself in the field of nursing? The University of Tulsa can prepare you to make your entrance. Our Accelerated Bachelor of Science in Nursing (ABSN) program is built for those who have a non-nursing bachelor's degree and want to quickly transition to a nursing career.
To support you in completing your degree, the online ABSN at TU is built on 60 core credits* and designed to be completed in as few as 18 months. TU also grants conditional admittance to students with a variety of bachelor's degrees. So no matter what you studied, you can start down the path to nursing.
If you can't wait to begin your path to transformative care, we'll provide the unmatched support you need to start making a difference. Start your journey at TU today.
*Please note that the total credit hours required may vary based on your individual official transcript evaluations.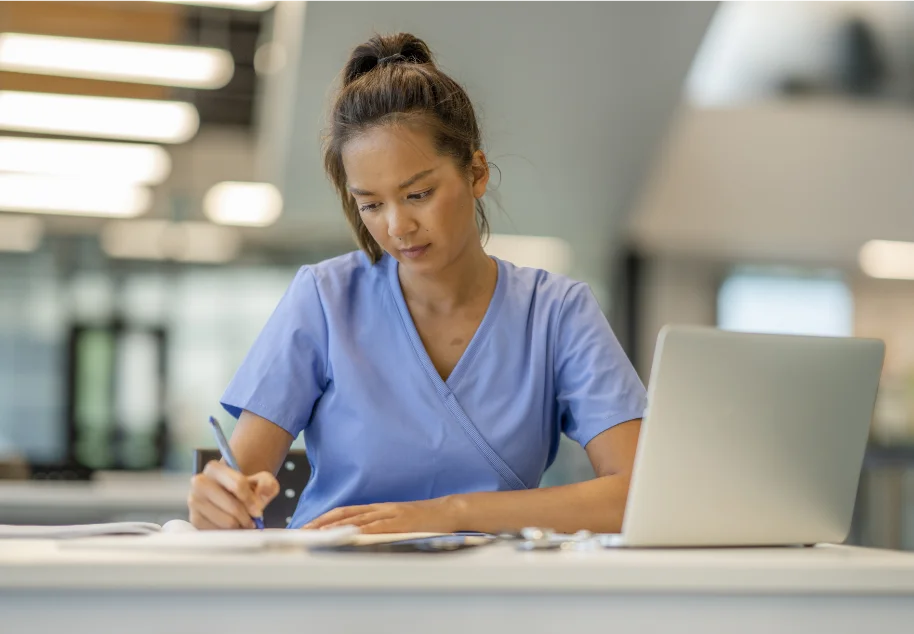 Earn Your ABSN Online at TU
Designed for adult learners and working professionals, our online ABSN delivers courses over eight-week periods with five start times per year to allow for an accelerated graduation timeline. Between practice-based coursework and hands-on clinical hours, you'll gain the critical skills you need to pass the NCLEX-RN® and deliver transformative patient care.
Here are some topics you'll encounter in ABSN coursework:
Overview of the professional, historical, social, and political forces that affect nursing and health care
Basic principles of pharmacotherapeutics and metrology calculation related to drugs and solutions
How to use the nursing process to help individuals experiencing simple disruptions to health across the lifespan
TU Graduates Are Ready for the NCLEX-RN
From the very first class you take at TU, you'll begin learning the material you'll need to be prepared for the Next Generation NCLEX.
The University of Tulsa far exceeds the state and national average, with first-time pass rates in the 95th percentile. Take a look at TU's NCLEX results for first-time test takers:
| Calendar Year | TU Pass Rate |
| --- | --- |
| 2022 | 95% |
| 2021 | 95% |
| 2020 | 89% |
Obtaining Licensure in Your State
For students seeking registered nurse licensure, please review the specific academic requirements for the program in which you are enrolling, including those related to practicum/internship and pre-qualifications for licensure.
It is the responsibility of the student completing the licensure program to check with the licensing board(s) in their state of residence or the state in which they intend to obtain a license for the most recent information and requirements. Many licensure boards have additional requirements beyond successful degree completion to obtain a license. Please be advised that state laws, regulations, and policies may change at any time.
TU shall not be held liable if the student is unable to qualify for licensure or certification in any jurisdiction or cannot obtain a practicum/internship location.
Accelerated Online BSN to MSN Degree Pathway
Graduates of TU's ABSN program who pass the NCLEX are automatically accepted into the online Master of Science in Nursing (MSN), a 30-credit hour program designed for working nurses who want to continue advancing their professional skill set.
Curriculum & Courses
Designed for students with a bachelor's degree in a non-nursing field, the ABSN program is built on 60 core credits* and offered in an accelerated eight-week format to allow for multiple starts each year. Degree completion requires a one-week skills bootcamp on our campus as a prerequisite to clinical work and a combination of preceptor and project-based clinicals, totaling 630 hours.
Clinical requirements are completed alongside course content to reinforce learning and foster clinical development. Students will complete preceptor-based clinicals in their local communities with the assistance of TU placement coordinators. TU will also assign a clinical faculty site visitor to support clinical experiences overseen by an experienced preceptor.
*Please note that the total credit hours required may vary based on your individual official transcript evaluations.
View full curriculum details in The University of Tulsa course catalog.
Online ABSN Degree Path
Credits
Clinical Hours
1st Eight Weeks
NSG 2013 Fundamentals of Nursing
3
NSG 3053 Health Assessment
3
2nd Eight Weeks
NSG 2233 Pharmacology
3
NSG 3063 Theoretical Frameworks in Nursing
3
Preclinical Skills Development (One Week)
NSG 2111 Skills Bootcamp (On Campus)
1
30 (preclinical)
3rd Eight Weeks
NSG 2343 Acute and Chronic Care I
3
NSG 2373 Acute and Chronic Care I Practicum
3
135
4th Eight Weeks
NSG 2443 Acute and Chronic Care II
3
NSG 2473 Acute and Chronic Care II Practicum
3
135
NSG 4543 Quality Across Health Systems
3
5th Eight Weeks
NSG 4023 Informatics in Healthcare
3
NSG 3543 Nursing Care of Specialized Populations I (Gerontology/Mental Health)
3
NSG 3572 Nursing Care of Specialized Populations I Practicum
2
90
6th Eight Weeks
NSG 4013 Nursing Care for the Family
3
NSG 4643 Nursing Care of Specialized Populations II (Maternal/Child)
3
NSG 4672 Nursing Care of Specialized Populations II Practicum
2
90
7th Eight Weeks
NSG 3073 Population Health
3
NSG 3071 Population Health Practicum
1
45
NSG 4263 Leadership/Nursing Science V
3
8th Eight Weeks
NSG 4643 Capstone
3
NSG 4843 Acute and Chronic Care III
3
NSG 4873 Acute and Chronic Care III Practicum
3
135
Total
60*
630
(clinical)
30
(preclinical)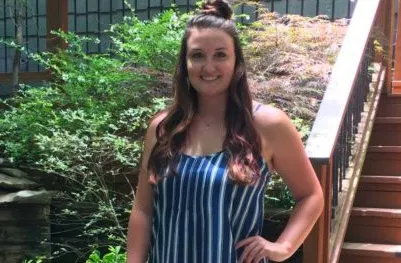 THE NEXT CLASS START DATE IS JANUARY 15, 2024. DON'T WAIT TO APPLY!
Accelerated Nursing Education at an Unbeatable Value
At just $445 per credit hour with textbooks included, our online ABSN degree delivers an elite, private nursing education at a competitive price. The 60-credit hour program* accelerates your path to nursing leadership so you can increase your earning potential sooner.
*Please note that the total credit hours required may vary based on your individual official transcript evaluations.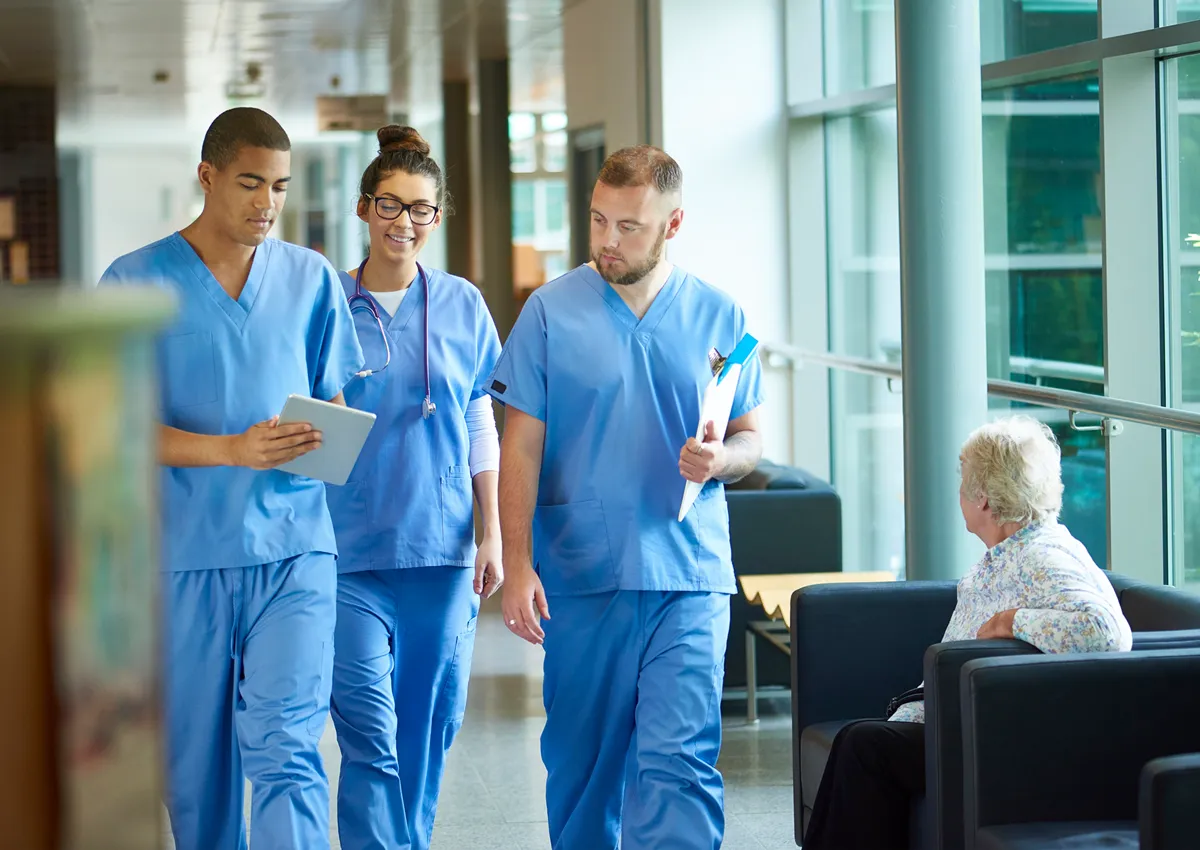 Community of Care
TU is home to compassionate educators who provide individualized guidance and one-on-one support. We take the time to understand your goals, matching and mentoring you to promote career readiness and foster professional development.
Why Choose Tu?
An experienced faculty dedicated to helping you advance your career
An up-to-date curriculum designed to prepare future-ready nurses
A reputation for training confident and competent nursing leaders since 1973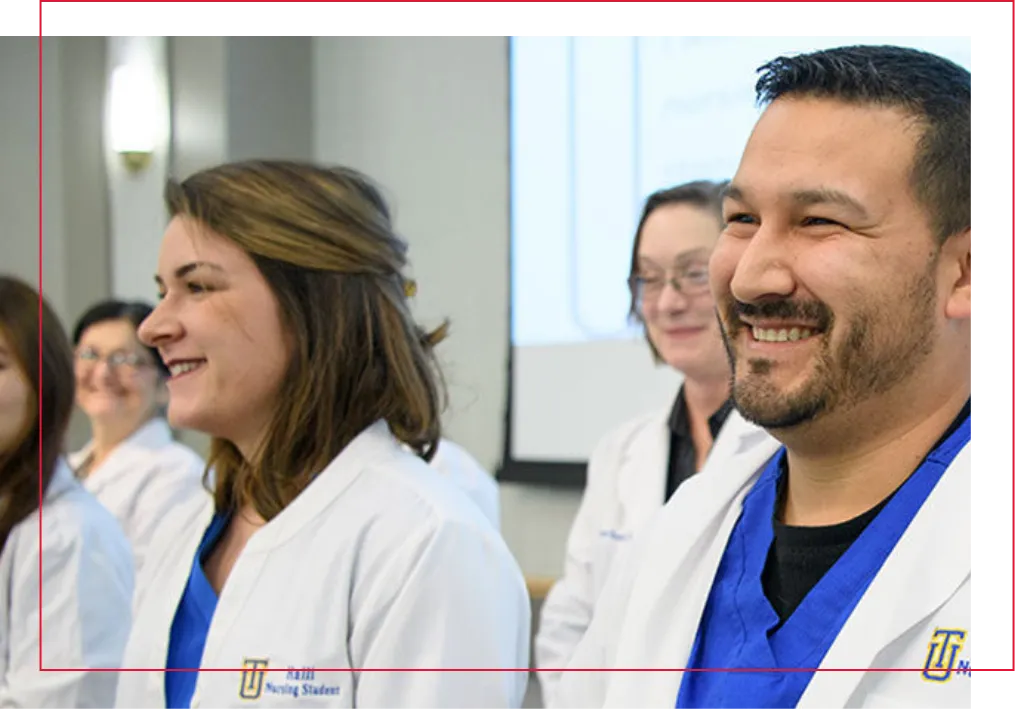 About The University of Tulsa
The University of Tulsa is known for its long-standing legacy of producing skilled and hard-working nurses, dating back to its first graduating class from the School of Nursing in 1973. TU's online programs are sharing this reputation of academic excellence with a cohort of learners across the United States, preparing a new generation of future-ready nurses, compassionate caregivers, and nursing leaders to thrive in their field.